Market Commentary: Weekly Recap with Aldrich Wealth
---
Global equity markets pushed higher, with emerging markets posting the best results.
Yields on the 10-year Treasury note increased, as investors returned to the equity market.
The unemployment rate held steady at 3.7%, while wage growth improved to a nine year high.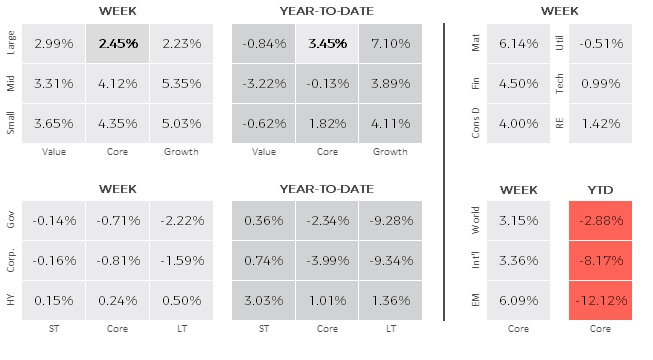 The S&P 500 Index recorded solid gains, up 2.5% during the week, as ten of the eleven underlying sectors turned in positive results. The gain halted the benchmark indexes string of weekly losses at four while pushing the year to date figure back into positive territory. Small cap stocks outperformed large cap while growth generally bested value across the market capitalization spectrum. Materials, financials and consumer discretionary stocks led the way, while utilities, technology and real estate stocks lagged. The quarterly earnings season neared conclusion with figures from 74% of the S&P 500 now reported. As of the end of the week, earnings have increased by nearly 25% from a year before, only a modest slowdown from 25% gains in the first two quarters of the year.
Developed non-U.S. markets, as measured by the MSCI EAFE Index, increased 3.4%. The Bank of Japan and Bank of England kept rates unchanged following their monetary policy meetings. That said, the BOE did strike a more hawkish tone in anticipation of a favorable Brexit development. Emerging markets, as measured by the MSCI Emerging Markets Index, turned in the best relative results with a 6.1% advance. Sentiment appeared to get a lift after President Trump tweeted that he had a long conversation with President Xi of China and that "discussions are moving along nicely."
The yield on the benchmark 10-year Treasury increased sharply from 3.08% at the end of trading the previous week to 3.22% at the close Friday. The increase in yields pushed bond prices lower, especially for longer-term Treasuries that are particularly sensitive to interest rate changes.
The earnings season is winding down with 76 companies in the S&P 500 reporting earnings this week. Important economic data include a read on service sector PMI, the release of consumer sentiment and a report from the FOMC on the direction of interest rates. That said, the mid-term elections will garner considerable interest as they will provide some clarity on the future balance of power in Washington.
Since 2004, Matt has worked on the sell side of the financial services industry with a focus on investment analytics. As a member of the Aldrich Wealth Investment Committee, Matt oversees investments for both retirement plans and high net worth individuals. He is also responsible for monitoring broad economic data and identifying new investment opportunities.…
Matt's EXPERTISE
High-net worth individuals
Corporate retirement plans
Connect with Matt