Market Commentary: Weekly Recap with Aldrich Wealth
---
Global equity markets continued to struggle, with the S&P 500 Index entering correction territory.
As investors favored their relative safety, yields on the 10-year Treasury note declined.
The U.S. economy grew by 3.5% in the third quarter, the best consecutive-quarter results since 2005.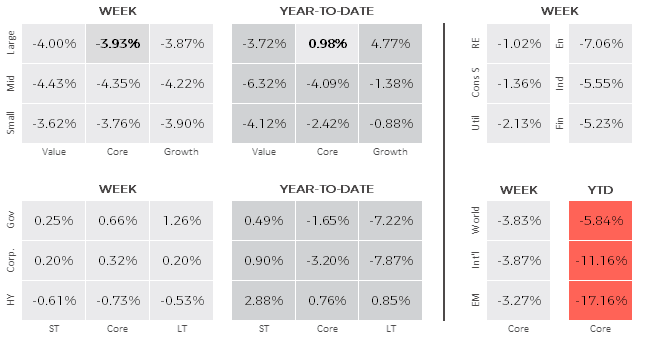 The S&P 500 Index suffered a sharp decline of 3.9% during the week, as each of the eleven underlying sectors turned in negative results. The benchmark index has now logged four consecutive weekly losses. Large cap stocks outperformed small cap with minimal differentiation between growth and value across the market capitalization spectrum. Real estate, consumer staples and utilities stocks led the way, while energy, industrials and financials stocks lagged. The week was the busiest one of the quarterly earnings season, with 37% of the companies in the S&P 500 reporting results. As of the end of the week, analysts polled by FactSet expected earnings for the S&P 500 as a whole to have increased by nearly 23% from a year before, only a modest slowdown from 25% gains in the first two quarters of the year.
Developed non-U.S. markets, as measured by the MSCI EAFE Index, fell 3.9%. Stocks in Europe fell throughout the week in line with U.S. markets and as Italy's budget remained out of step with the European Union's requirements. Additionally, the European Central Bank (ECB) signaled that it will stick with its plan to halt bond purchases in December, despite market turmoil and mounting risks to the Eurozone economy. Emerging markets, as measured by the MSCI Emerging Markets Index, turned in the best relative results with a 3.3% decline. The Latin America region, as measured by the MSCI Latin America Index, provided the best results as investors in Brazil cheered the victory of far-right candidate Jair Bolsonaro of the Social Liberal Party.
The sell-off in equities seemed to push some investors into the bond market, and longer-term bond yields decreased for the week. The yield on the benchmark 10-year Treasury dropped from 3.15% at the end of trading the previous week to 3.08% at the close Friday. The drop in yields pushed bond prices higher, especially for longer-term Treasuries that are particularly sensitive to interest rate changes.
During the upcoming week, 139 S&P 500 companies are scheduled to report results for the third quarter.
Since 2004, Matt has worked on the sell side of the financial services industry with a focus on investment analytics. As a member of the Aldrich Wealth Investment Committee, Matt oversees investments for both retirement plans and high net worth individuals. He is also responsible for monitoring broad economic data and identifying new investment opportunities.…
Matt's EXPERTISE
High-net worth individuals
Corporate retirement plans
Connect with Matt