Market Commentary: Weekly Recap with Aldrich Wealth
---
U.S. equity markets pushed into record territory, as large-cap value stocks produced solid gains.
The yield on the 10-year Treasury note touched 3.1% on Thursday, its highest level in four months.
Prime Minister Shinzo Abe easily won reelection in Japan, extending his tenure for another three years.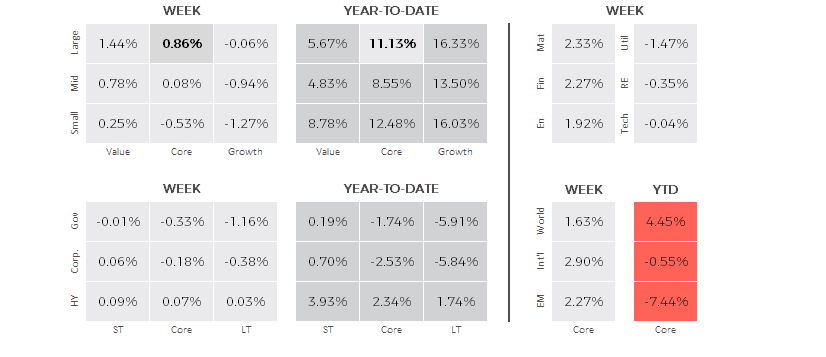 U.S. equity markets pushed into record territory after brushing off talk of a renewed trade spat with China. The S&P 500 Index was up nearly 0.9% for the week, as eight of the underlying eleven sectors turned in positive results. Large-cap stocks outperformed small-cap and value bested their growth brethren across the market capitalization spectrum. Materials, financials and energy stocks led the way, while utilities, real estate and technology stocks lagged. A sharp increase in longer-term bond yields early in the week boosted financials stocks by improving bank lending margins but weighed on real estate investment trusts and utilities shares, whose relatively high dividends became less compelling in comparison.
Developed non-US markets enjoyed strong gains throughout the week, with the MSCI EAFE Index up 2.9% and value stocks leading growth stocks. The gains came on the back of a weakening dollar, which was down around 1% versus a basket of currencies. The odds of a hard Brexit rose as UK Prime Minister Theresa May and European Union (EU) leaders traded Brexit demands. Emerging markets, as measured by the MSCI Emerging Markets Index, increased nearly 2.3% during the week as value stocks finished the week significantly ahead of growth stocks. China was able to shake off trade conflict news to finish the week up more than 1.5%.
The yield curve shifted upward during the week, with the yield on the 10-Year Treasury Note beginning the week at 2.99% and rising to 3.07% on Thursday. That movement also steepened the yield curve slightly, as the yield on the 2-Year Treasury Bill moved only three basis points, from 2.78% to 2.81%. With that as a backdrop, shorter duration fixed income securities outperformed their longer duration brethren while a healthy economic picture provided support for bonds of lesser credit quality.
Important economic data coming next week include the Federal Reserve's short-term interest rate decision on Wednesday, durable goods orders on Thursday and consumer sentiment on Friday.