Portland Business Journal Names Aldrich Wealth and Aldrich CPAs + Advisors as Most Admired Companies of 2022
---
LAKE OSWEGO, OR, DEC 16, 2022 — Aldrich is pleased to announce that Portland Business Journal named Aldrich CPAs + Advisors and Aldrich Wealth in Oregon's Most Admired Companies of 2022. Celebrating their fourth consecutive year on the list, Aldrich Wealth ranked 6th on the Financial Services list, moving up two spots from the previous year. Aldrich CPAs + Advisors ranked 10th in the Law & Accounting category, marking their second consecutive year of recognition and third time overall.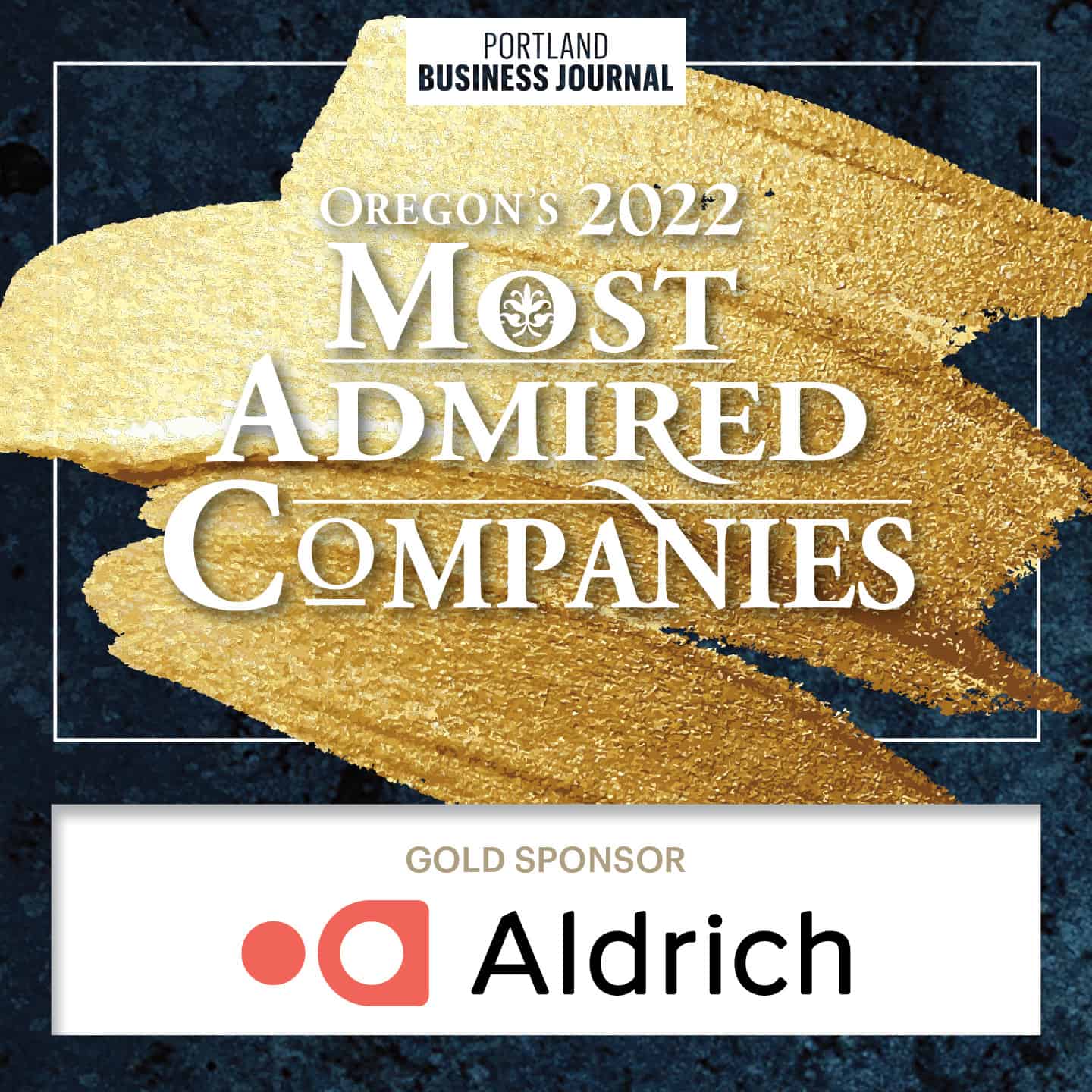 "The recognition as a Most Admired Company reflects the pride I have in our people and our collective commitment to maintaining our precious culture," effused John Lauseng, CEO + Partner. "We are honored to pair our deep expertise with valuable and innovative solutions to serve our clients through all phases of the business life cycle." 
"It is an honor to be recognized by the Portland Business Journal, I am elated by our consistency and growth. This represents the Aldrich Wealth team's relentless pursuit of excellence and commitment to improve the lives of our people and our clients," shared Scott Barchus, President + Partner of Aldrich Wealth.
On Thursday, December 8, the Portland Business Journal hosted an Awards Ceremony at the Hilton Portland Downtown to announce and celebrate participants. Aldrich CEO, John Lauseng, presented awards to recipients of all categories.  
To generate the rankings for Oregon's Most Admired Companies, the Portland Business Journal sent surveys to nearly 2,500 CEO-level executives in Oregon and Southwest Washington. In response, 270 leaders selected the three companies they most admire in ten industry categories, as well as the three companies they admire most across all industries. 
To learn more about this award, click here. 
About Aldrich Wealth
Aldrich Wealth LP is a fee-based Registered Investment Advisory firm that provides a comprehensive and customized financial services suite to individuals, businesses, and trusts. These integrated services offer clients the opportunity to grow and preserve their personal and business wealth. Aldrich Wealth's services weave together goal-based wealth management, financial and estate planning, and tax planning and preparation. Aldrich Wealth's Corporate Retirement Plans services include investment management, recordkeeping consulting, fiduciary governance services, and employee education services. Aldrich Wealth is part of the Aldrich Group of Companies, including Top 100 Accounting Firm, Aldrich CPAs + Advisors, Aldrich Benefits, Aldrich Retirement Services, Aldrich Technology, and Aldrich Capital.