NAPA Recognizes Aldrich Wealth as 2022 Top DC Advisor Team
---
LAKE OSWEGO, OR., MARCH 22, 2023– Aldrich Wealth is pleased to announce that the National Association of Plan Advisors (NAPA) recognized our Corporate Retirement Plans team as a Top Defined Contribution (DC) Advisor Team. Marking Aldrich Wealth's fifth year of recognition, the list consists of the nation's leading retirement plan advisory firms that have at least $100 million in assets under advisement (AUA) as of December 31, 2022. Out of nearly 400 teams recognized, Aldrich Wealth is proud to be one of only five firms based in Oregon included in the list.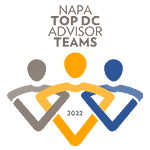 "I am so proud of the awards and accomplishments of our team of 401(k) advisors. Clearly, we are approaching our job to plan sponsors and their participants a little differently," said Heather Wonderly, AIF®, CPFA®, Partner + Director of Corporate Retirement Plans. "The only thing we have to sell is unbiased fiduciary investment services and holistic fiduciary support performed in a dynamic way. We approach each day by challenging ourselves to be better than we were the day before to help our clients achieve successful retirement plans."  
This year's list included a record number of teams, representing nearly $2 trillion in defined contribution plan assets belonging to more than 56,000 plans covering more than 23 million participants. "This latest chapter of NAPA Top DC Advisor Teams presents a compelling case for the positive impact on the nation's private retirement system," noted Nevin Adams, Chief Content Officer of the American Retirement Association, and Editor-in-Chief of NAPA-Net. 
The National Association of Plan Advisors was created by and for retirement plan advisors. Membership is also open to other retirement industry professionals who support the interests of plan advisors. NAPA is the only advocacy group exclusively focused on the issues that matter to retirement plan advisors, and is part of the American Retirement Association. 
Click here to view the 2022 Top DC Advisor Team list in its entirety.  
About Aldrich Wealth
Aldrich Wealth is part of the Aldrich Group of Companies including Aldrich CPAs + Advisors, Aldrich Benefits, Aldrich Capital Advisors, and Aldrich Technology. Aldrich Wealth is honored to be recognized both nationally and locally for the services we provide to our clients. A few of our accomplishments from the past few years can be found here. We serve clients with deep industry expertise in construction, manufacturing, real estate, healthcare, nonprofit, telecommunications, utilities, professional services, food processing, and agribusiness, as well as a variety of privately held companies and individual clients.