Q3 2019 Market Commentary + Outlook
---
Each quarter, Aldrich Wealth Partner Nicole Rice and Chief Investment Officer Darin Richards provide market commentary and make projections for the upcoming quarter. This conversation is accompanied by a deeper dive into market performance and outlook, as well as featured articles on popular topics such as retirement planning and changes in interest rates.
Equity markets continued their upward trajectory, notwithstanding increasing political concerns in the U.S., festering U.K. BREXIT uncertainty, and escalating trade rhetoric.
Against that backdrop, the Federal Reserve cut its key interest rate target twice during the period and began to set the stage for further changes in policy.
All told, the S&P 500 Index added 1.5% for the quarter and 20.0% this year. Non-U.S. markets, as measured by the MSCI EAFE Index, fell -0.5%, despite strength across much of developed Asia.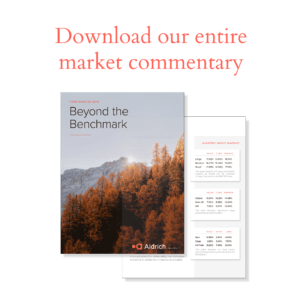 Emerging markets, as measured by the MSCI Emerging Markets Index, declined -4.0% as the trade spat between the U.S. and China weighed heavily across much of Asia.
The yield on the benchmark 10-year Treasury fell sharply from 2.00% at the end of trading the previous quarter to 1.67% at quarter-end.
For more on market trends this quarter, watch Nicole's interview with Darin, or read our entire quarterly market commentary.
Meet the Authors
Darin joined the Portland wealth management firm in 2004, bringing more than a decade of investment and financial consulting experience with him. As chief investment officer for Aldrich Wealth, Darin is responsible for developing, and implementing our investment philosophy and leading the investment committee. He works directly with some of our most complex and largest clients and also…
Darin's EXPERTISE
Series 7 and 63 security exams
Chartered Financial Analyst (CFA®)
Connect with Darin
Nicole has dedicated her entire professional career to helping individuals and corporate clients with their financial needs and provide investment-related guidance. She has experience working in wealth management, retirement planning, tax accounting, design and implementation of non-qualified benefit plans, insurance, and qualified benefit plans. Her deep expertise and team-based approach enables her to provide clients…
Nicole's EXPERTISE
Individual wealth management
Certified public accountant
Retirement planning
Series 65 securities exam
Connect with Nicole